$30 Insulin Coming to California!
April 5, 2023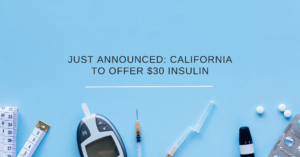 CHANGES COMING TO THE INSULIN MARKET!
Branded as "$30 Insulin by CalRx," Governor Newsom announced on March 18, 2023, that California has entered into a $50 million, ten-year contract with Civica Rx for it to manufacture and distribute generic insulin in California. While Civica still needs to obtain FDA approval for its proposed insulin biosimilars and finish the construction of its proprietary manufacturing facility, this is an exciting development. Civica will be responsible for "all regulatory and clinical development activities." Except for California's funding, Civica will be responsible, for the entire 10 years, for all commercialization expenses, ensuring "wide availability of CalRx branded insulin" throughout California. Civica also will direct purchase orders and inventory management. ∗
California is not, at least at this stage, committing to purchase Civica insulin for the state agencies that are responsible for providing health benefits to millions of Californians. However, since the driving purpose of the CalRx initiative is to put affordable pharmaceuticals in the hands of California's low and middle-income residents and persons with government-paid insurance, one imagines that California's state agencies will be substantial purchasers of Civica insulin. According to the Governor, the CalRx program will look like this: 
A 10mL vial will be made available for no more than $30 (normally $300)
A box of 5 pre-filled 3mL pens will be made available for no more than $55 (normally more than $500)
No new prescription will be needed. Californians will be able to ask for the CalRx generic at their local pharmacy or via mail-order pharmacies. Pharmacies must agree to order/stock the product.
CalRx plans to make biosimilar insulins available for: Glargine®, Aspart®, and Lispro® (expected to be interchangeable with Lantus®, Humalog®, and Novolog® respectively)
Presumably sensitive to the direction that the wind is blowing, following the federal government's decision to cap out-of-pocket insulin costs for Medicare beneficiaries at $35 a month, the three largest commercial insulin manufacturers have recently announced significant price reductions. In early March, Eli Lilly announced price reductions of 70% for its most commonly prescribed insulins and an expansion of its Insulin Value Program that caps patient out-of-pocket costs at $35 or less per month for persons with commercial insurance.
Novo Nordisk also recently stated that it will lower the U.S. list prices of several insulin products by 65% to 75%. The price-reduced products include both pre-filled pens and vials of basal (long-acting), bolus (short-acting), and pre-mix insulins, specifically Levemir®, Novolin®, NovoLog®, and NovoLog® Mix 70/30. Novo Nordisk is reducing the list price of unbranded biologics to match the lowered price of each respective branded insulin. These changes will be effective starting January 1, 2024. Finally, Sanofi agreed to reduce the list price of Lantus®, its most widely prescribed insulin in the U.S., by 78%, and it will reduce the cost of Apidra® by 70%. It has agreed to establish a $35 monthly cap for those with private insurance, effective January 1, 2024. Sanofi also offers a program that permits uninsured U.S. residents to purchase insulin for $35.00.
Mann Legal will be watching to see what additional effects California's entrepreneurship, and the federal government's Medicare cost restrictions, have on the market for pharmaceutical products. Stay tuned.
∗ The Civica contract can be found here.  
© Copyright 2021. MANN LEGAL TEAM All rights reserved.